Things that I feel I need to say....
just wanted to thank those of you that asked how I was doing today..sent ecards and were just there to listen when i needed a ear. Its always a tough day on me..but I'm doing ok really.
I miss him terribly but I know he knows that I loved him and my mom with all my heart! I was very lucky to have them as long as I did. And I can say that I was really close to both of them and have alot of great memories! So I take that with me in my heart everyday. I admit I touched my rings around my neck quite a bit today. But I always do that when something reminds me of them. It's like I carry a piece of them with me everyday.
I know most of you know that yesterday I got a new job. I am so happy about that, and I know my parents would be happy too. It pays a slight more.. not a lot but a little is something anyway. And its several miles closer..which will help with the stupid gas prices! And most importantly I don't have to worry about being laid off now. So I am going to be in training for about 2 months. Learning about Insurance! Since I'll be working in the claims department.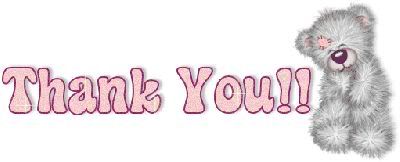 COOL MySpace Comments
All your friendships mean so much to me!